Ich bin gerade auf dieses Del Close Video von 1986 gestoßen. Der Impro-Visionär spricht über das Impro-Langformat "Harold" und was seine Grundideen sind. Es ist bekannt, das Del Close den Namen "Harold" nicht mochte – das spricht er auch hier an.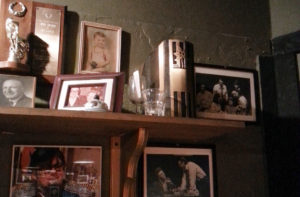 Del Close war einer der bedeutensten Köpfe für das moderne Improtheater und hatte großen Einfluß auf die amerikanische Comedykultur. Er schuf unter anderem die berühmteste Impro-Langform – den Harold und ist Co-Author des Buches "Truth in Comedy: Manual of Improvisation" – was sogar eine "Simpsons"-Erwähnung erhielt.
Das Foto links zeigt den Shrine für Del Close im iO-Theater in Chicago, als es noch direkt am Wrigley Field in der Clark Street beheimatet war. Das Buch ist die Urne mit der Asche von ihm. Links steht einer der beiden Jeff Awards, die er als Regisseur für "Miro, Miro on the Wall" (1981) und für seine Rolle des Polonius in "Hamlet" (1985) erhielt.
Und hier der legendäre Simpsons-Shoutout vom Mai 2016:
"Cheat at improv? What would Del Close say?!"